How to Remove AdSense Ad Serving Limit : If you monetize your website with Display Ads then most of the chances are that you will be using AdSense Ad Network because in the beginning all the publishers will take the Approval of Google AdSense AdSense on your blog/website. Prefer to use Ad Network only, but the problem arises when you bring traffic to your website and suddenly you get notification from Adsense that AdSense Ad Serving Limit has been imposed on your site.
By putting Ad Serving Limit on AdSense, the earning of your blog falls and we are not able to get the revenue we should get, but in this post I will tell you how to remove AdSense Ad Serving Limit and why this limit is imposed on our blog.
Temporary AdSense Ads Serving Limit क्या हैं?
In Temporary AdSense Ads Serving Limit, you get a mail in which you are told that Ad has been limited on your blog or website, you can easily understand it in such a way that when Ad Limit is applied then your blog or website Very rarely or completely stop seeing advertisements on the website.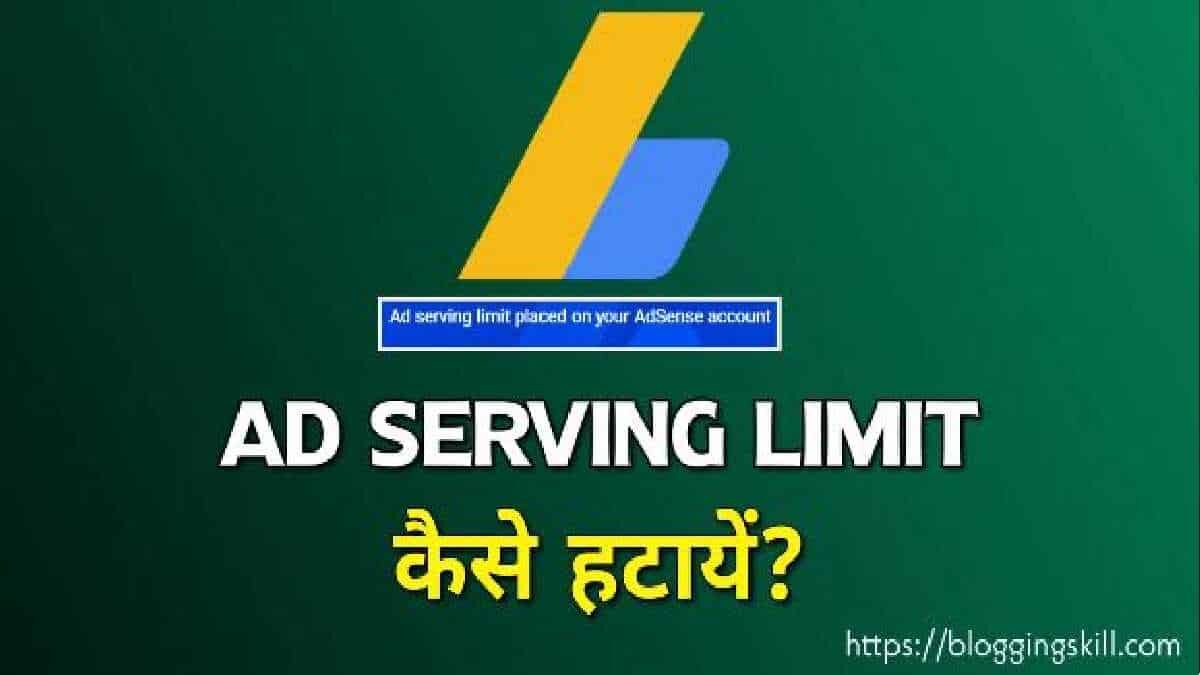 Temporary AdSense Ads Serving Limit On arrival, you are given time to correct your page, after that your limit will be removed, if you have made a mistake in any post, then you can eliminate this limit by correcting it.
Google AdSense Ads Limit क्यों लगाता हैं? – Why Google imposes AdSense Ads Limit
This step has been taken by Google AdSense for Adsense account because there are many bloggers who bring a lot of social traffic to their blog and it is equal to Organic Traffic, due to which AdSense traffic would be considered as Illegal Traffic and imposed Ad Limit. Huh.
You do not feel ad limit with Social Traffic, if you do not use only one social site like Facebook, then try to get traffic from social platforms like Facebook, Telegram, Quora, Medium, Twitter, LinkedIN etc. Take this you will not face the problem of ad limit.
Whatever article you write on your blog, do not place more ads on that article because earlier you could place 4 to 7 ads on one page but now AdSense says that you can increase or decrease ads according to the length of your content. And this is the reason that many publishers fill in a lot of ad content and they have to face the problem of ad limit.
How To Remove AdSense Ad Serving Limit?
Now let's talk about how to remove AdSense Ad Serving Limit and show ads on the website again, in this I will tell you two steps, by adopting which you can overcome the problem of Ad Limit.
Step 1
You have to see that there is no content breaking the AdSense Policy on your blog, if there is, then remove it and after that your Ad Limit will be removed automatically within 4 to 5 days.
Still, if the Ad Limit is not removed, then you get the option of Feedback inside Adsense, on which you can share Screenshot and after manually checking your Ad Limit is removed.
Step 2
In this second case, you can get the ad limit due to both Invalid Traffic or Illegal Content, so here I will guide you step by step what to do.
How To Fix Temporary AdSense Ads Serving Limit

If you have also enabled Auto Ads on your blog, then disable it and clear your blog's cache.
First of all you have to go to your Blogger Dashboard and after going there go to your Theme Option then click on HTML and remove the AdSense code which was pasted inside the head.
After that come back and go to Layout Option where remove all the Ad Units where you have placed.
After doing this, you wait for 7 to 14 days, you will see that your Ad Limit problem will have been resolved, then in this way you can fixed the Ad Serving Limit Problem.
Final Word
My friends, you must have liked this post, in this post we told you in detail that how to remove AdSense Ad Serving Limit, if your problem is fixed, then visit our website daily and keep learning blogging and this article below Please share with the given social share button Thank you.